Candlestick formations
Now that we've covered the first level of Candlesticks, it's time to look at the different formations that can happen and what they mean.
In-depth formations
Candlestick formations can show reversal, continuation or consolidation patterns for a potential market movements. Candles that form groups of patterns show potential market tops, bottoms and continuations.

'EXCLUSIVE VIDEO FOR MEMBERS ONLY - JOIN US'

Candlestick formations can include one, two or three (sometimes more!) candlesticks. Here, we've broken down the essential formations that you need to know:

1-candle formations:
Marubozu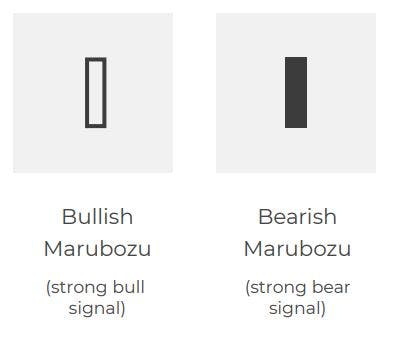 A Marabuzo candle is a strong bullish or bearish candle with small wicks. This is now to be confused with a Marabuzo level, which is the mid-point from the open and close of that candle.


Doji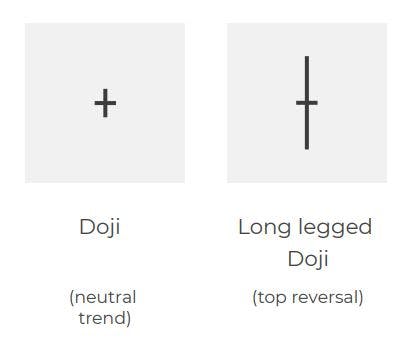 Opens and closes with little change, highlighting trader's indecision as both Bulls and Bears compete. It is often seen at the top or bottom of trends and accompanied with a spike in volume.


Hammer and Inverted Hammer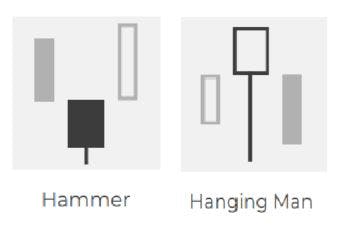 Usually seen at the top and bottom of the trend, with a shadow (handle) that should be at least twice the length of the body. It is often seen with a spike in volume and shows when new highs (Bearish Inverted Hammer) have attracted selling interest. The opposite applies to the Bullish version.


2-candle formations:
Engulfing Candlestick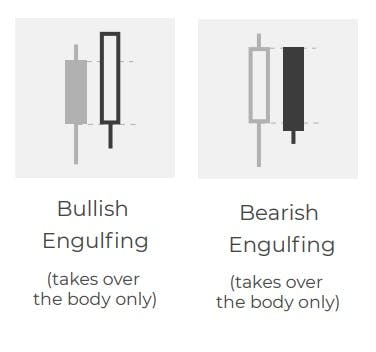 The leading candle takes over the previous candle's body, but not the whole range. A Bullish Engulfing highlights that buyers are in control, whilst Bearish Engulfing is when selling interests take place.

Outside Candlestick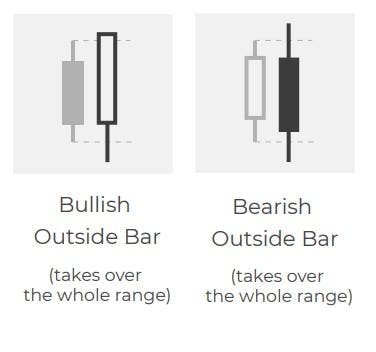 The larger candle overtakes the whole of previous candles range, and not just the body. This strong candle formation can highlight the end of a current trend where new highs or lows prices are put in place.


Harami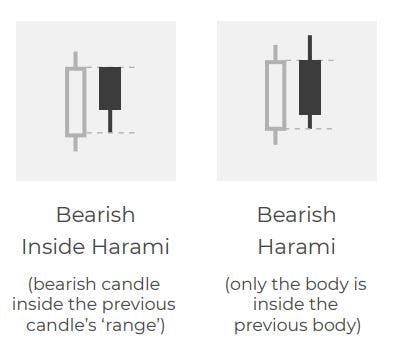 These candles sit inside the previous candles' range and highlight indecision. Combined with the next candle formation, they can highlight the highs and lows or trends.


Tweezer Bottom (Bullish) & Tweezer Top (Bearish)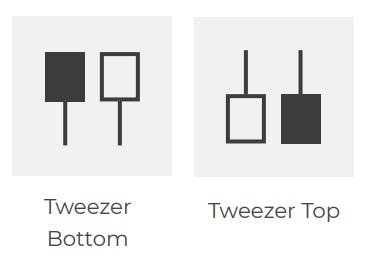 A two-candle combination often seen at the top of bottom of trends. Tweezer Bottom is a combination of either a doji and/or hammer, where the second candle's low price is similar to the first, showing at the same price level is continuing to attract buying interest.


3 or more-candle formation:
Morning Doji Star/Evening Doji Star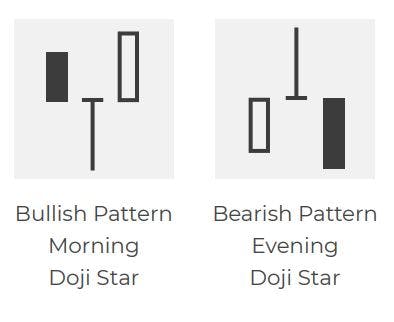 The Morning Doji Star is seen at the base of a trend. The first candle being a large bearish candle (red), the middle candles being a Doji (little net change) and the last candles being a large bullish candle (green) and a confirmation of a change of trend. The opposite applies for the bearish Evening Doji Star formation.
Three White Soldiers/Three Black Crows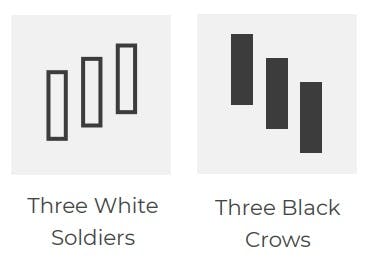 Three White Soldiers consists of 3 or more consecutive candles, predicting the reversal of a downtrend. It opens with the previous candle's real body and its closing passes the previous candle's high. Three Black Crows predicts the reversal of a current trend. The close point is lower than the previous candle's high.
Candlestick pattern rules
The Rule of Two - from the previous patterns, strong signals can be seen with a single candle but it's better to wait for confirmation from another candle before taking trading action.
The Rule of Nine - after nine consecutive Bullish or Bearish candles, the sequence should temporarily break.
Gaps - gaps or windows are usually closed. A 'gap open' sometimes happens after the weekend because the recent news has not been absorbed in the market. The product forms a gap at the open, either higher or lower than before the weekend.
Adding strength to the formations
A candlestick formation can become stronger with the following tools:
Overbought/oversold
With oscillator confirmation
Ichimoku Cloud
Demark levels 
As we've said before, trading isn't as sprint – it's a marathon. And you can't do it all at once. If you're feeling a little frazzled by Candlesticks, don't worry – you can return to this page at any time for reminders. With a little time and a little practice, trading using candlesticks could soon be a central part of your trading strategy.
If you want to practice, remember that it's quick, free and easy to sign up to our Practice Account (link). 
Candlesticks can be an important part of your strategy, but not as much a risk management. We've put together a guide to advanced risk management, including the Risk:Reward Ratio and the Sharpe Ratio.
You can become a member of the Trade Nation community today! Equipped with exclusive commentary, market insights, trading courses and expert-led Q&A sessions, you'll be able to progress on your trading journey with confidence.
Join us
When you join Trade Nation, you'll get access to more than just a Trading Portal – you'll discover expert-written resources, trading courses and exclusive Q&A sessions with top traders. We're also here for you 24/5 via phone, email or LiveChat.
See all our benefits