What is Market Volatility?
Like 'liquidity', 'volatility' will be one of the terms that you see again and again when you're trading. And, like 'liquidity', it's one of those words you need to be aware of.
Market Volatility relates to large movements in markets. A market can be described as 'volatile' when there's a price change of over 1% in either direction within a short period of time. A market that's stable and consistent is regarded as having Low Volatility.
But where does Volatility come from? In the short term, it's influenced by changes in demand, which is usually impacted by changes in earning expectations. There are several factors that can affect these expectations:
Earning reports
Economic data release
Company leadership changes
Political, economic, socioeconomic and geopolitical events
Changes in interest rates
If you're looking to place a trade, one strategy is to review the news stories surrounding that market. At Trade Nation, our My Smart News service (link) gives you round-the-clock news relating to the markets you're interested in, all in seconds.
Examples of Volatility
It's all very well talking about Volatility, but what does it actually look like?
Below, we have two markets. Both start at $100 and finish at $125 over the course of a 10-day period. Although they both reach the same finish point, the second market is considered to be more 'volatile' because it had daily price movements of 5%, whereas the first market only fluctuates less than 1% every day.

During periods of Volatility, trader can begin to question their trading strategy because the market isn't moving as they expected. It's important to remember that Volatility will happen within a market in the short term.

One way to balance this is to take a longer view of the market.

In the short term, movements in the market may seem very dramatic, but when they are viewed in the long term they have little impact on the overall movement of the market itself.

For example, the first graph shows a very Volatile movement. However, this is only over a 2-week period, which, when looked at in the second graph (over a period of 2 years) appears as only a small fluctuation in the overall upward movement of the market price: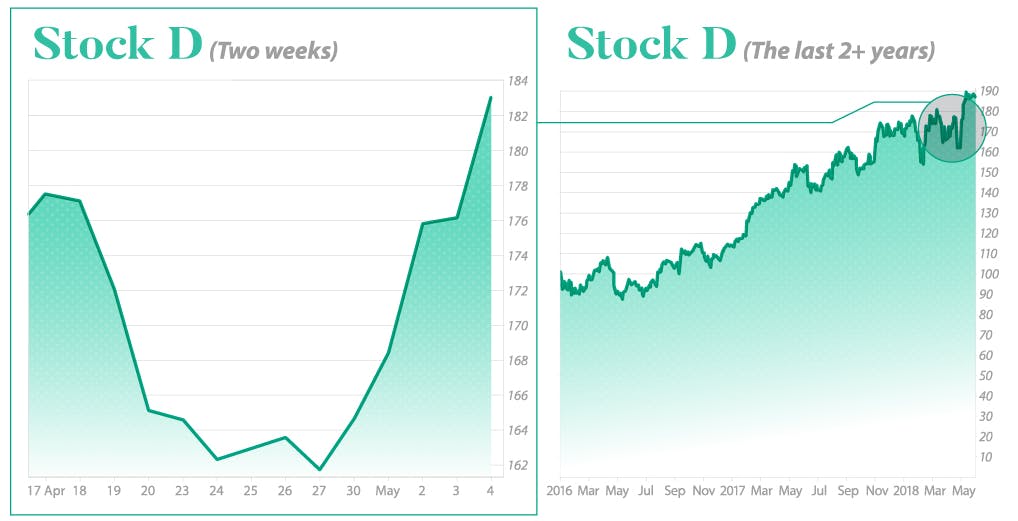 By keeping the trade open instead of closing when the market became volatile, a trader trading this situation would have profited.

Here, we've built the foundations of what Volatility is and what you can expect. Volatility is an important (and huge!) topic, and experienced traders often use a variety of techniques to protect themselves or predict Volatility. This includes Bollinger Bands, the VIX Index and the Average True Range.
You can become a member of the Trade Nation community today! Equipped with exclusive commentary, market insights, trading courses and expert-led Q&A sessions, you'll be able to progress on your trading journey with confidence.
Join us
When you join Trade Nation, you'll get access to more than just a Trading Portal – you'll discover expert-written resources, trading courses and exclusive Q&A sessions with top traders. We're also here for you 24/5 via phone, email or LiveChat.
See all our benefits