Market volatility
Now that you know the essentials of Volatility, you can now progress to come of the tools available to help measure Volatility.
This can be useful when deciding what market you want to trade, or at what point you might want to set a Guaranteed Stop Loss. Not sure what that is? Read our risk management guide.
Bollinger Bands volatility
Developed by John Bollinger, 'Bollinger Bands' is a popular technique. It's a statistical chart that has three separate bands:
The Middle band is the Simple Moving Average or mean average. It's usually set at a 20-day average but this depends on personal preferences.
The Upper and Lower bands are set using the standard deviation calculation and are areas of support and resistance from Middle band. These are typically set at a 2-day average.
You may choose to use Bollinger Bands as it's a technique that helps traders notice the overbought and oversold levels. The Upper and Lower bands move higher and lower but they never cross each other. When the bands widen away from the Middle band, the market becomes more volatile. If the bands are closer to the Middle band, it shows low volatility and a steady market.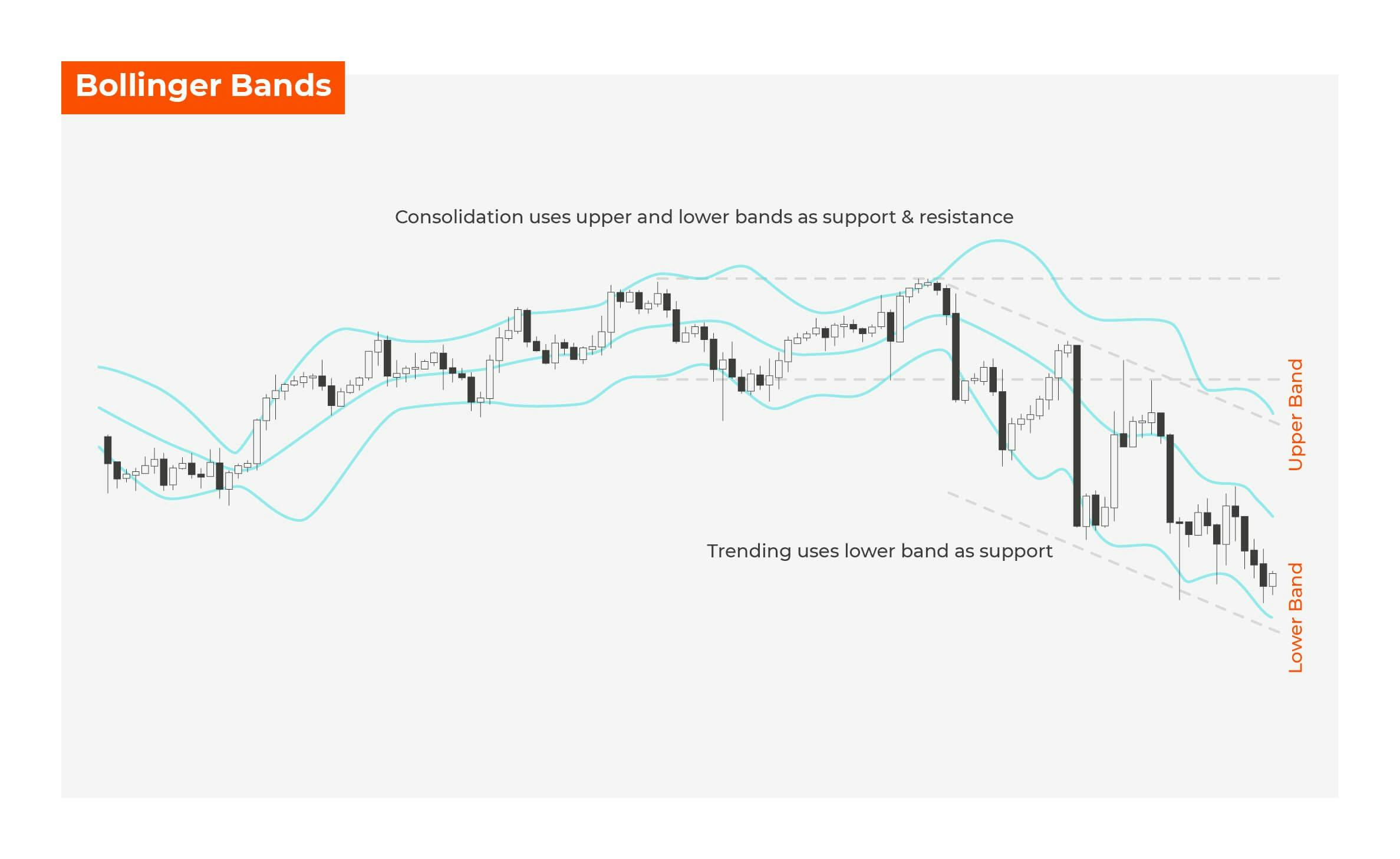 What is the VIX Index (CBOE Volatility Index)?
The VIX Index is another popular real-time measurement used by research analysts in order to help finalise trading decisions – and you can use it too. Remember, the higher the reading, the higher the volatility.
The VIX Index measures a 30-day expected volatility, calculating time to expiry (shown as 'T' in the diagram below) by dividing each day into minutes to copy the process most often used by volatility traders. This measurement involves real-time price options in the S&P 500®Index (known as SPX).
SPX options are:
'Standard' - near-term SPX options with 25 days to expiry. They expire at the open of trading on SPX settlement day (third Friday of the month).
'Weekly' - next-term SPX options with 32 days to expiration. They expire every Friday except for the third Friday of each month.
The VIX Index calculation:


How can Volatility be measured daily?
A market's volatility can change dramatically, especially in today's world. Strikes, political unrest, recessions, inflation, bankruptcies, major industry fluctuations (the list goes on!) can cause asset prices to fluctuate dramatically (up or down). Many traders choose to keep their eye on the news to keep up to date with what's happening in related markets. At Trade Nation, we offer My Smart News – an AI-driven news service that'll help you to find the stories that are important for your markets, all in seconds. (link)
Average True Range (ATR) is a simple way to track and measure a market's volatility on a daily basis. The ATR is the average of how far the price moved over a set period.

The calculations are:
From the formula shown, the following example shows a 7-period Average True Range (ATR):
(70 + 65 + 50 + 65 + 60 + 85 + 110) = 505 7ATR 505/7 = 72
From the above, you can see that in the last two days, the range (how far the market has moved from high points to low points), was above the Average True Range. This means that there was increased volatility, which can make the market's security risky.
ATR may be able to help you decide which current markets are best for you, depending on your 'risk appetite'. Want to know more about risk management? We have just the thing.
You can become a member of the Trade Nation community today! Equipped with exclusive commentary, market insights, trading courses and expert-led Q&A sessions, you'll be able to progress on your trading journey with confidence.
Join us
When you join Trade Nation, you'll get access to more than just a Trading Portal – you'll discover expert-written resources, trading courses and exclusive Q&A sessions with top traders. We're also here for you 24/5 via phone, email or LiveChat.
See all our benefits