Commodity trading
What is a Commodity?
Unlike other products that Trade Nation offers, Commodities are a physical thing.
At Trade Nation, we think of them as what makes the world go around as they are usually extracted, grown or produced from the planet.
Commodities can be categorised as either Hard or Soft Commodities. At Trade Nation, we offer the most popular Hard Commodities, such as Oil, Gold and Silver.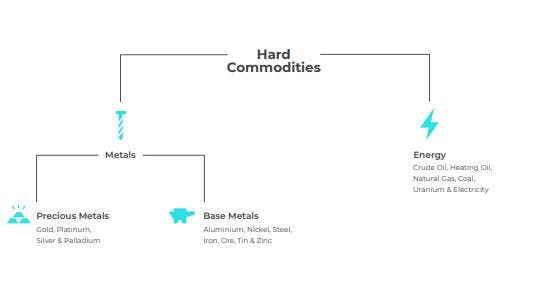 What is Commodity trading?
Commodity trading is done on a huge scale around the world. Companies trade directly with Commodity producers and suppliers leading to the shipment of large quantities of Commodities.
Whilst other forms of trading have moved away from exchanges, Commodity trading is still done this way. Exchanges specialise in specific products, and they help to manage the quality of the products being traded.
If you wanted to trade Oil, the quality of the product would be managed by the Chicago Mercantile Exchange, or if you were interested in Steel then it would be overseen by the London Metal Exchange.

When you trade Commodities with Trade Nation you don't buy the actual product, you speculate on the price movement of the product - Will gold increase or decrease in value?
It's quick and easy to become a member of the Trade Nation community. All you need to do is sign up and verify yourself. You don't even have to start trading if you don't want to – we have plenty of things to read and discover.
When you join Trade Nation, you'll get access to more than just a Trading Portal – you'll discover expert-written resources, trading courses and exclusive Q&A sessions with top traders. We're also here for you 24/5 via phone, email or LiveChat.